Press
PRESS & REVIEWS
Mette Juul – Change
Mette Juul – Lars Danielsson – Ulf Wakenius – Heine Hansen – Gilad Hekselman – Per Møllehøj.
Jazz singer and songwriter  Mette Juul has a new album coming out on September 6, released by Universal Music. On this album, Juul reveals new sides of herself through intimate solo, duo and trio sessions.
Change was recorded partly in Juul´s own home and partly in New York and Sweden. Anchored in her voice and guitar the music happened in the moment with the musicians in the studio.
Mette Juul is internationally recognized and critically acclaimed for her earlier releases There is a Song(2015), Moon on my Shoulder (2012) featuring Blue Note trumpet player Ambrose Akinmusire alongside others, and the debut album Coming in from the Dark (2010) featuring Palle Mikkelborg and Alex Riel among others.
With Change Juul creates a new sound around her songs and music from Brazil and the U.S.
Juul is joined by a number of remarkable musicians: bass and cello player Lars Danielsson (SE), guitar players Ulf Wakenius (SE), Gilad Hekselman (USA) and Per Møllehøj (DK), all of whom accentuates Juul's fondness for the guitar. Heine Hansen, who has been a part of Juul's career for years, contributes with piano, celeste, rhodes and the harmonica.
Download Presspics "Change"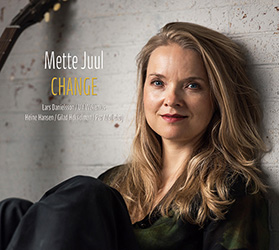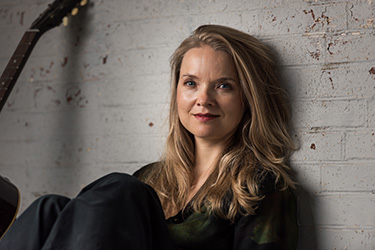 Photos by Alex Nyborg Madsen.
–
REVIEWS & ARTICLES
Reviews:
Change – 2019 :
"a major musical accomplishment from Juul"
5 star review : Change – All about Jazz.

"Frau Juul ist eine der ganz großen Vocaljazz-Entdeckungen der letzten Jahre"
"Phänominal" 6 star review Germany
It is the combination of the eminant compositions / songs, the high musical / technical level and the singer´s calm composure, vocal personality and sound that make the album something out of the ordinary" 5 star review : Change – Ivan Rod – DK
"The voice of Juul is a trademark because it flows naturally with the essens of the music"
Review – Change – Musica Jazz – Italy.
"what a delightful listening experience it is"
Review – CHANGE – Lance Liddle – London
"Sången är personlig och varm, hon visar en stor äkthet och en bedövande närvaro i sina sånger, med texter, som inte bara är tilltalande, utan fängslande"
Review – Change – Opulens – Sweden.
"Det här albumet är verkligen lätt att tycka om. Mette Juul sjunger andras och egna sånger till eget och andras gitarrackompanjemang, och det är bara att slå sig ner och njuta."
Review – Change – Kulturdelen Sweden.
There is a Song and concerts :
"Juul is one of those artists who creep up on you and grow upon you and, as you absorb the melodies and the intriguing lyrics, suddenly you're in love with a voice" Lance Liddle, London Jazznews.
"Sie gilt als eine der besten Jazzvokalistinnen Europas, was ihr Auftreten und ihre warme, klare Stimme im ausverkauften Jazzclub bestätigte. Teilweise zu eigener Gitarrenbegleitung interpretierte sie 
mit viel Überzeugungskraft, Sinnlichkeit und Courage
 sowohl eigene Lieder als auch Songs von bekannten Songwritern wie Joni Mitchell, Thelonious Monk und Cole Porter
"
"Rich scandinavian voice full of heartfelt presence" Jazznyt, DK.
"Jazz singer and songwriter Mette Juul combines vocal jazz with folk musics warm intimacy
on an elegant album with contributions from the American trumpeter Ambrose Akinmusire"
http://politiken.dk/…/rastloese-sange-forener-vokaljazz-me…/
"Mette Juul und band bringen internationalen Jazz an die Ostsee" 2017
http://www.shz.de/lokales/eckernfoerder-zeitung/mette-juul-und-band-bringen-internationalen-jazz-an-die-ostsee-id16388136.html
"Die dänische Jazz-Sängerin Mette Juul und Band haben dem Publikum im Mitbürgerhaus einen außergewöhnlichen Jazz-Abend beschert. Die Ausnahmesängerin und ihre vortreffliche Band spielten auf höchsten Niveau und aus einem Guss." Eckernfoerder zeitung
"Mette Juul ist beinahe eine Offenbarung wie sie heute nur selten zu erleben sind. Natürlichkeit und klarheit wirken empathisch and unterstützen das ungeschribene Dekret, Musik soll kommunikativ sein- und nachhaltig wirken". Germany – Jazzpodium-Vocal tail.
"Ambrose Akinmusire har en smakfullt framträdande roll på skiven. Jeg fäster mig för hans originale infall, som skickligt vävs in i Mette Juuls uttryckfulla och spännande säng"… "allt till en lysande Mette Juul" Lasse Seger, Orkesterjournalen
"..quietly compelling vocals."
Marlbank, Stephen Graham
"Undervejs i lytningen kom jeg flere gange til at tænke på Joni Mitchells flirt med jazzen på sine senere værker, men analogien holder kun et lille stykke vej, for Mette Juul lyder bestemt – og heldigvis for det – ikke som en  Mitchell-klon. Hun har helt sin egen enkle, lette og tilbagelænede hybrid af jazz og pop. Og man kan kun anbefale pladen til dem, der goutterer både jazz og pop og det, der ligger imellem."
capac.dk (in Danish)
"Mette Juul is a singer whose voice digs deep and creeps slowly into the depths of the mind".
"Mette Juul takes Lund by storm"
"Stemmen er nærværende og troværdig"
"Mette Juul skriver rigtig gode sange"   
5/6 Berlingske tidende. Kjeld Frandsen.
"Cool på den varme måde"
"Ligefrem mesterlig er hun"
"Hun mestrer det afdæmpede og nærværende"
"In this Life.. denne Bacharach-lignende melodi forekommer ret så inciterende"
"Mette Juul har elegant greb om sit materiale hele vejen igennem" Jazzspecial
"subtilt, stemningsfuldt, eftertænksomt og inderligt musiklandskab… Hendes stemme og tekstunivers rammer den ønskværdige balance mellem skrøbelighed og stålfasthed, mellem melankoli og opstemthed, mellem indelukkethed og omfavnelse." Tidal / Wimp
"Mette Juul assert herself in the front line of female vocalists…"
Politiken DK
"Mette Juul viste spændvidden af hendes stemme gennem koncerten…. Hun mestrer både det sensuelle dybe over det stærke til det blide fine."  Soundvenue.
"En stemme der momentvis har træk af Monica Zetterlund og med samme ægthed og nærvær som denne". 5/6 Martin Loft Kulturmagasinet.
"Mette Juul er uden tvivl én af vores allerbedste jazz-vokalister og fortolkere" BT
" Danske Mette Juul udsender i dag sit nye album 'There is a Song'. Mette hører til typen, der ikke behøver at råbe højt for at få opmærksomhed. Man suges ind af albummets intense tone." BT
"Nærværende Jazz.. skøn sanger"
5/6 stjerner Alt for damerne
Articles & Interviews: