Home
CHANGE  is out on Universal Music now !
"a major musical accomplishment from Juul"
5 star review : Change – All about Jazz.
"after a few seconds the goose bumps arrive and you know a great evening is waiting"
Blekinge Läns Tidning. Live at Karlskrona Concert Hall nov 2019.

"Frau Juul ist eine der ganz großen Vocaljazz-Entdeckungen der letzten Jahre"
"Phänominal" 6 star review Germany
"Mette Juul is a distinguished vocalist. Her voice is at the same time vulnerable and powerful, and her phrasing is just perfect " Henrik Palle – Politiken DK
Follow Mette Juul on instagram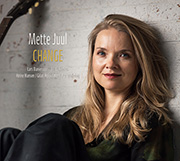 CHANGE – Itunes
Amazon
CDON Skandinavia +
Next Concerts :
22/2 2020 Winter Jazzfestival.
Hvidovre Library. 5 PM. Duo.
16/2 2020 – Winter Jazzfestival.
Lundsgaard Castle – Fyn. Dk. Duo.
7/2 2020 Winter Jazzfestival.
Hornbæk Jazzklub
About Juul :
"Juul is one of those artists who creep up on you and grow upon you and, as you absorb the melodies and the intriguing lyrics, suddenly you're in love with a voice" Lance Liddle, London Jazznews.
"Jazz singer and songwriter Mette Juul combines vocal jazz with folk musics warm intimacy
on an elegant album with contributions from the American trumpeter Ambrose Akinmusire"
http://politiken.dk/…/rastloese-sange-forener-vokaljazz-me…/
"Sie gilt als eine der besten Jazzvokalistinnen Europas, was ihr Auftreten und ihre warme, klare Stimme im ausverkauften Jazzclub bestätigte" Bamberg Germany – Live concert.

"Mette Juul has a bright rich scandinavian voice full of heartfelt presence"
Niels Overgård, Jazznyt, DK.
"affecting delicacy, caressing the lyrics with palpable care…" Jazzwise UK.
–

MAILING LIST
Sign up to be kept updated with tours, releases and news.