Home
Next Concerts :
9-11-2018
Jazzcup – Copenhagen.
Mette Juul v/g, Heine Hansen p, Alex Riel dr. Thomas Fonnesbæk b.
16-11-2018
Kulturøen, Middelfart
Mette Juul v/g, Heine Hansen p, Alex Riel dr. Klavs Hovman b.
For more concerts press calender.
About Juul :
"Juul is one of those artists who creep up on you and grow upon you and, as you absorb the melodies and the intriguing lyrics, suddenly you're in love with a voice"
Lance Liddle, London Jazznews.
"Jazz singer and songwriter Mette Juul combines vocal jazz with folk musics warm intimacy
on an elegant album with contributions from the American trumpeter Ambrose Akinmusire"
http://politiken.dk/…/rastloese-sange-forener-vokaljazz-me…/
"THERE IS A SONG"
NOMINATED for DANISH MUSIC AWARDS Jazz.
for Best Vocal Release.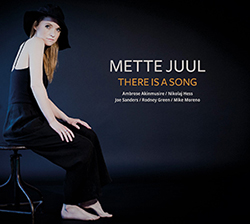 "Mette Juul has a bright rich scandinavian voice full of heartfelt presence"
Niels Overgård, Jazznyt, DK.

"Sie gilt als eine der besten Jazzvokalistinnen Europas, was ihr Auftreten und ihre warme, klare Stimme im ausverkauften Jazzclub bestätigte" Bamberg Live
"affecting delicacy, caressing the lyrics with palpable care…" Jazzwise UK.
"Mette Juul ist beinahe eine Offenbarung"
Jazz Podium, Germany.
–

MAILING LIST
Sign up to be kept updated with tours, releases and news.