Home
NOMINATED for DANISH MUSIC AWARDS Jazz 2016
for Best Vocal Release.
October 16 : Kongegaarden. Korsør, DK. 3 PM
October 30 : Sønderborg Jazzclub, DK. 3 PM.
November 6 : Horsens Ny Teater, DK.
For more dates, please press calendar
"THERE IS A SONG" is out now!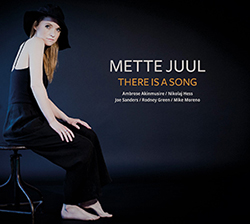 "Juul is one of those artists who creep up on you and grow upon you and, as you absorb the melodies and the intriguing lyrics, suddenly you're in love with a voice"
Lance Liddle, London Jazznews.
"Mette Juul has a bright rich scandinavian voice full of heartfelt presence"
Niels Overgård, Jazznyt, DK.
"affecting delicacy, caressing the lyrics with palpable care…"
Jazzwise UK.
"Mette Juul ist beinahe eine Offenbarung"
Jazz Podium, Germany.
–

MAILING LIST
Sign up to be kept updated with tours, releases and news.